Laparoscopic palpation system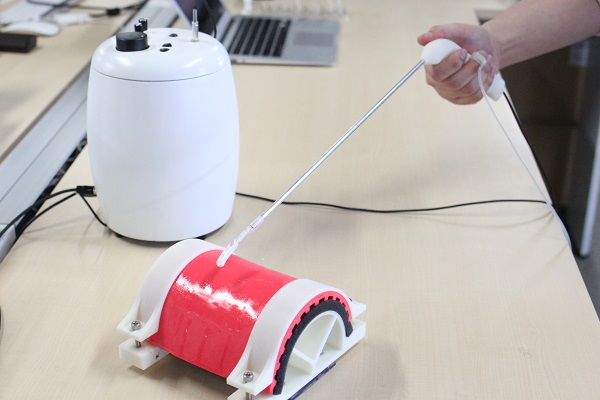 腹腔鏡(内視鏡の一種)の下で行う手術中に,目では見えないがんを触診によって見つけることを目指したシステムです.鉗子状の触覚センサで患部の表面をなぞり,その情報を指に装着した触覚ディスプレイで感じることでがんの検出に役立ちます.
早期の胃がんは胃の表面には見えず,従来医師が開腹手術中に患部を触わることによって正常部より硬くなったがんの位置を見きわめていました.腹腔鏡下手術はお腹の傷が小さくて済むため患者の負担が少ない手術ですが,開腹手術と比べて医師の触覚を大きく制限します.
もし腹腔鏡下手術で医師の触覚を補うことができれば,手術中にがんの場所を正確に把握でき病気の完治につながります.
私たちは,臨床応用に適したセンサやディスプレイを臨床医師と共に開発し,滅菌や使い捨てなど手術特有の課題を解決した実用的な触覚システムを開発しました.
このシステムは,医師がリアルタイムに触覚情報を体感できる構成としているため,医師の感覚やスキルを活かすことができます.触覚ディスプレイは指輪のように指につけて使用するので,医師の操作を邪魔しません.また,触覚センサは音響を用いており,患者の体内に電気的な装置を入れることがなく安全です.
私たちは実際の胃がん患者に対して臨床試験を継続的に行っており,実用化に一歩一歩近づいています.胃に限らず様々な臓器にも応用可能で,今後さらに発展するでしょう.
触覚研究と医療分野の融合によって,より患者さんに優しい医療を提供することを目指します.
project members : Tomohiro Fukuda, Ly Hoang Hiep, Shun Akita
This is a system that aims at intraoperative detection of the tumor that cannot be detected visually during laparoscopic surgery. The surgeon can detect the tumor based on information from a tactile display worn on the finger by scanning the surface of the organ with a forceps-type tactile sensor.
Early-stage gastric tumor is located on the inner surface of the stomach wall, and cannot be detected with visual information. Thus, in conventional open surgery, the surgeon often touches the stomach and detects the tumor, which is often stiffer than the surrounding tissue.
Laparoscopic surgery offers benefits to the patient such as reduced pain and faster recovery compared to open surgery. On the other hand, it significantly limits the surgeons' tactile sense.If the surgeons' tactile sense were compensated, the surgeons could detect the tumor by palpating the target tissue.
We developed a tactile sensor and a tactile display suitable for clinical application in collaboration with clinicians to achieve intraoperative tumor detection.
In this system, the surgeon can feel the sensing information through the tactile display in real time, and we aim to utilize the surgeon's clinical experiences and skills for effective palpation. The ring-type tactile display was designed that it is wore on the finger; thus, it does not disturb the sensor manipulation. Moreover, the tactile sensor has safety for the body tissue because it uses acoustic sensing principle and has no electrical elements within the part inserted into the patient's body.
We continue to carry out clinical experiments using this system for actual patients who have an early-stage gastric tumor, and we think that our system is approaching to the practical application one step at a time.
We hope that the fusion between haptics and medical field facilitates researches that contribute to provide more patient-friendly medical treatment.